Here at YUL, we are committed to provide airport facilities that are adapted to the needs of people with disabilities or limited mobility. All the services described on this page are offered without conditions or fees.
When you disembark from the aircraft, if requested, an airline agent will assist you to the general public area (arrival). The electric carts service is offered to passengers who want it from the arrival gate to the Canada customs hall (arrivals level). Passengers can use the elevators to go to the customs hall and also to the carousel area. There is a line for use by people with limited mobility in the Canada customs hall.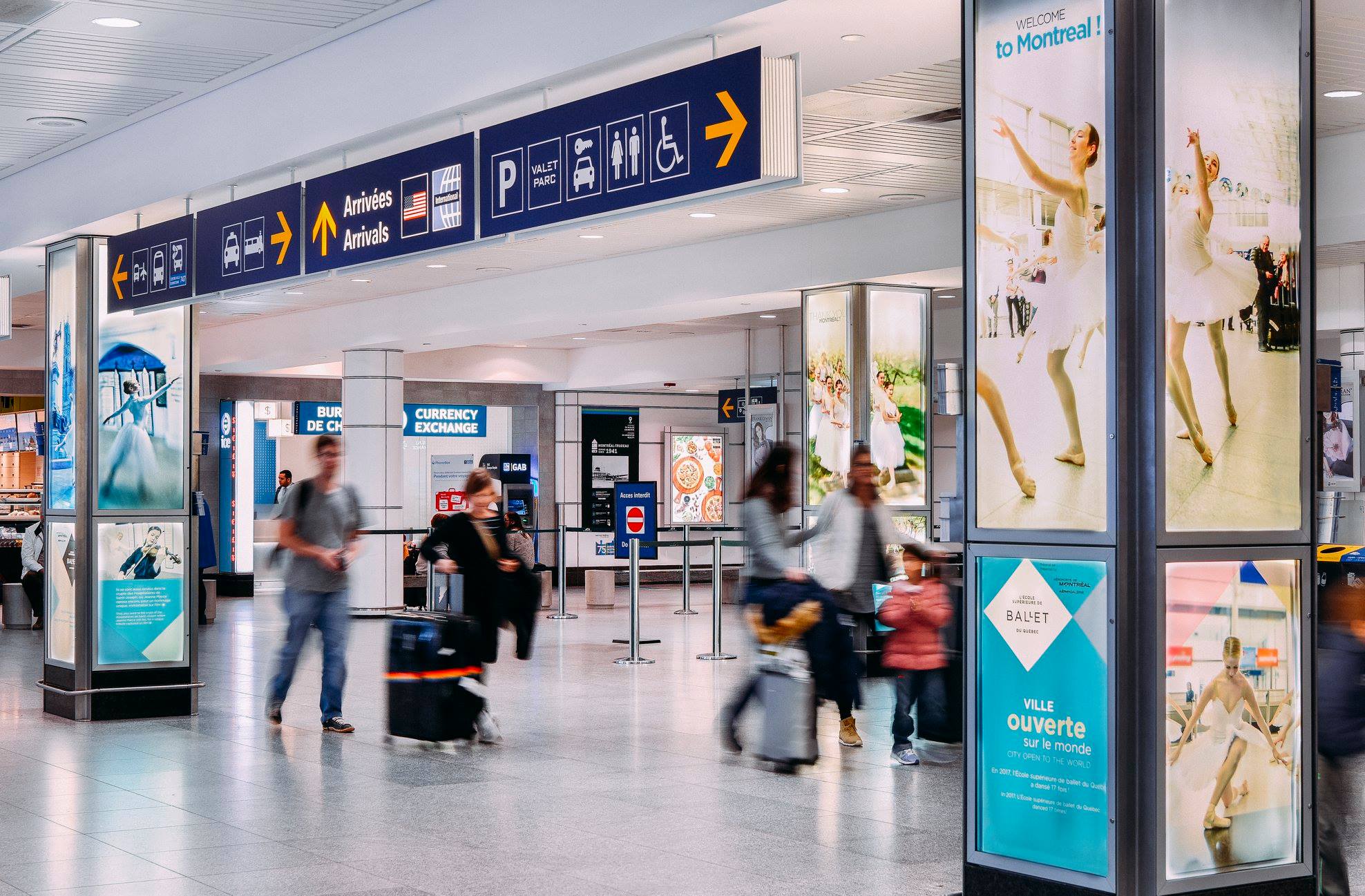 People with reduced mobility, with a valid certificate of attestation, who have used the Multi-Level parking at the weekly rate of the EconoParc can send their request for reimbursement, along with a copy of their YUL Montréal-Trudeau International Airport parking receipt, a copy of their limited mobility certificate issued by the SAAQ and a copy of the limited mobility traveller's plane ticket or boarding passes to the following address, either by mail, fax or directly via the web form:
Parking and Ground Transportation
YUL Montréal-Trudeau International Airport
975 Roméo-Vachon Blvd. North, Suite 317
Dorval, QC
H4Y 1H1
Tel.: 514-633-3333 or 1-800-465-1213
If you do not have a car, adapted taxis are available between 7 a.m. and 2 a.m. Simply go to the dispatcher upon arrival, at door 23, at the arrivals level. Outside these hours, you must advise your airline, who will contact our dispatcher.
Public transit buses are accessible to people with limited mobility and can accommodate wheelchairs.
A limited number of wheelchair-accessible vehicles and equipped with hand-operated controls are available for rental. Customers are asked to make the necessary arrangements in advance with their car rental agency.
Assistance on arrival - booking and procedure
Book the assistance you need:
When you arrive:
Inform the airline company that you have reserved the airport's assistance service.

Call the help desk at the number indicated on the sign.

Report your presence and provide the information requested.

Wait for the attendant to pick you up, there is a waiting area for this purpose.
If you have not reserved the service
It is possible to benefit from the service without a reservation, but the wait may be longer. Please follow the procedure mentioned above by calling the help desk. Depending on the level of activity at the airport, an average waiting time of 15 minutes can be expected.
This service is offered to passengers with disabilities in the public area only. For on-board assistance, during a connexion, after disembarking the aircraft, or at any other moment in the restricted area, please contact your air carrier.
Services and facilities for persons with visual impairment
There are four (4) pet relief areas across the terminal for guide dogs at YUL, with Braille signage provided:

Public area: in the Multi-Level parking lot in front of the terminal building, across gate 25 on the Arrivals level.

Domestic area: in front of boarding gate 47.

International area: in front of the restrooms near boarding gate 62.

Transborder area: in front of the restrooms near boarding gate 73.

Signs are large and brightly coloured, and some are available in Braille. Airport staff are available to help blind people find their way around.

Braille signs are located at entrances to all public washrooms.

All elevators, escalators and moving sidewalks are equipped with braille signage.

Elevators are also equipped with audible synthesized voice "floor callers" or acoustic signals that indicate floors.
Services and facilities for persons with hearing impairment
TTY telephones (identified with the TTY pictogram) are available at every bank of public telephones in the terminal and boarding areas.

All pay telephones in the terminal are equipped with an adjustable volume control and a flux coil to assist hearing-aid users.

Visual fire alarms (strobes) are located in public areas.

If you are a TTY user, simply call 7-1-1 for all directory assistance listings (local, national, US, overseas and toll free numbers). For TTY, call 1 800 855-1155